avatar, etc.
I finally put up an avatar for this thing today. I think it's kinda cute anyway.
One of the good things about my current pc being in the shop was that when I used my old one I found some pics of some of the stained glass pieces I've done. I'm going to try to put a few up. Most are small -- suncatchers, really -- 'cause I'm lazy and find making large windows etc a pain in the ass. They take a lot of space, they require more structural support, they are hard to transport, and generally they are commissions and I have to admit I'm not terribly fond of dealing with many of the type of people who are in the market for that type of thing. Hell, I feel like slapping the women (embarrassingly, it's almost always women too) who expect every piece of art or fine craft they buy to match their sofa or match the decor in their bathroom. They can't seem to understand why making a custom piece to match their fucking sofa or the room they take a crap in doesn't make me deliriously happy. And what is it with the people who see my work -- say at an art show where I have a lot of it out -- tell me how much they just
love
the style and colours and techniques...and then ask me to do something absolutely, completely different? I don't get that at all. Sometimes it's all I can do not to blurt out "Are you out of your fucking mind?"
Well, now that I've ranted a bit, I guess I should show a few pics. ;-)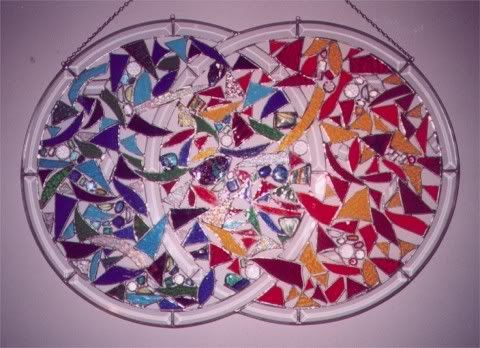 I called this one "Connecting Circles" and I saw it as the two circles -- one filled with cool colours and one filled with warm colours -- colliding and creating the center which is a mixture of both and also has dichroic and iridised glass to give the feel of more intense energy. The piece was not solid -- you could poke a finger between the pieces. I quite enjoy doing these because they are very free form. I've made several pieces of this style (this was the only connecting circle one though).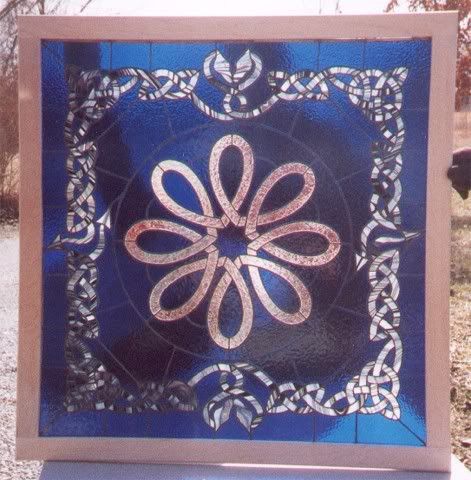 Don't mind the people in the back -- they didn't seem to comprehend that they would show through the glass.... :-) This one was actually a commission -- the only commission I enjoyed making. The woman saw several of my celtic pieces at a show and asked that I use one as the center (it's larger in this panel than the original) and then make a border similar to the celtic serpent/seahorse thingies I had (shown in the bottom photo).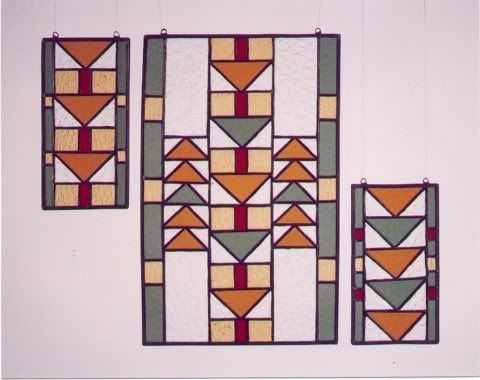 Some Frank Lloyd Wright/mission style inspired pieces. These I quite liked too -- usually I really love bright, strong colours, but I always thought these looked elegant. I will most likely make some of these types of pieces again.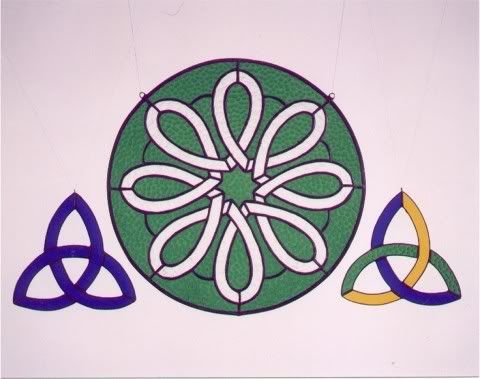 A couple of celtic-y things. The triquetras I make in several colours -- both solid and multi coloured.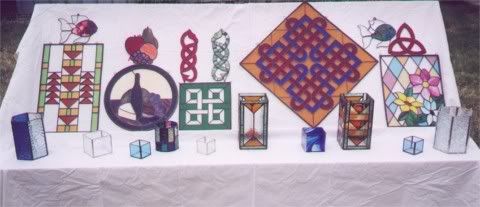 Just a little sampling of the types of things I made. The pieces on the front are candle holders.